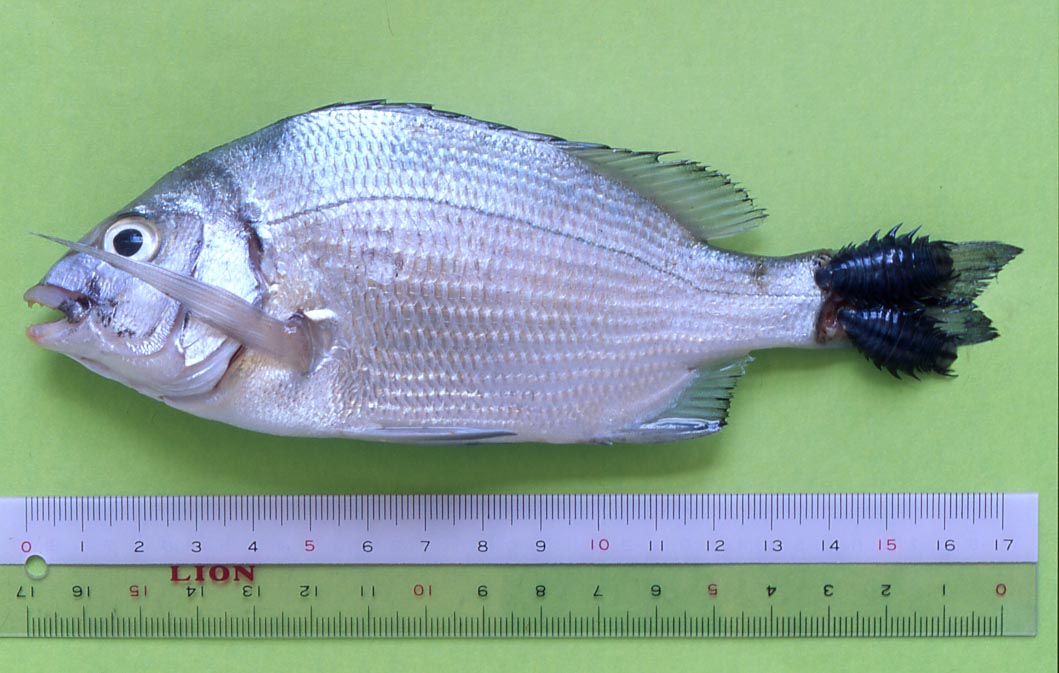 Parasite

Nerocila acuminata

Taxonomy

Arthropoda, Malacostraca, Isopoda

Hosts
Black porgy (Acanthopagrus schlegeli), Bermuda porgy (Diplodus bermudensis), Creole-fish (Paranthias furcifer)
Infection site

Caudal peduncle

Clinical sign

A pair of parasites (male and female) is observed on the caudal peduncle (Fig. 1).

Parasitology

Male (Fig. 2: right) and female (Fig. 2: left) are ca. 2.0 cm and ca. 2.5 cm in length, respectively. For attachment,

Nerocila acuminate

uses peraeopods, which are inserted into host muscle (Momoyama and Tensha, 2006).

Pathology

Host tissues are eroded and epithelial hyperplasia is pronounced at attachment site. The body color of lesion changes due to the localized loss of dermal melanophores (Rand, 1986).

Health hazard

Since this parasite is not infectious to human, it is harmless in food hygiene.

Diagnosis

Check the parasite on the caudal peduncle.

Other information

Rhexanella verrucosa

infecting to the buccal cavity of red sea bream

Pagrus major

and Mothocya (=Irona) melanosticta infecting to the gill of Japanese halfbeak Hyporhamphus sajori are known as related species to the present parasite.
References
Momoyama, K. and K. Tensha (2006): Ugly-looking parasitic infections and other abnormalities of wild fish and shellfish caught in the coastal or inland waters around or in Yamaguchi Prefecture. Bull. Yamaguchi Pref. Fish. Res. Ctr., 4, 143-161.

Rand, T. G. (1986): The histopathology of infestation of Paranthias furcifer (L.) (Osteichthyes: Srranidae) by Nerocila acuminata (Schioedte and Meinert) (Crustacea: Isopoda: Cymothoidae). J. Fish Dis., 9, 143-146.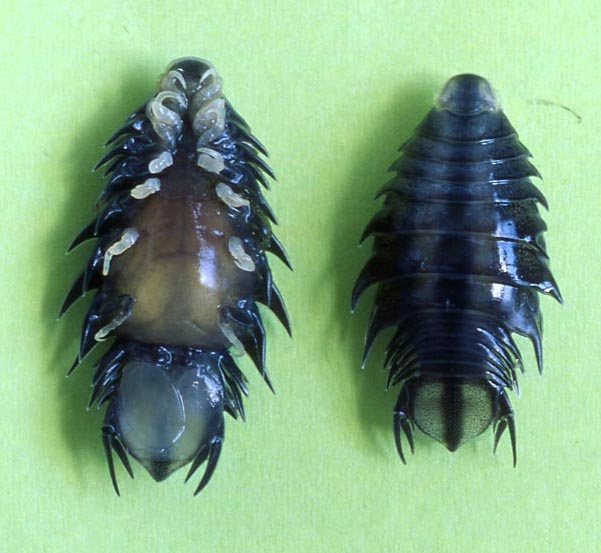 Fig. 2. Female (left) and male (right) of N. acuminata.
Fig. 1. Nerocila acuminata parasitizing the caudal peduncle of black porgy.